10,000 Small Businesses: It has not only changed the way I think about and conduct my business. It has changed my life.
I just finished a business course called 10,000 Small Businesses. It's run by the Goldman Sachs Foundation and has support from Bloomberg Philanthropies.
The curriculum was developed by Babson College which has one of the most respected MBA programs in the country. Warren Buffet is on their Board. In fact, at our graduation on August 2, Warren Buffet will be present, along with: Catherine Pugh, the Mayor of Baltimore: Lloyd Blankfein, the CEO of Goldman-Sachs; Michael Bloomberg; and a representative of the Harvard Business School. Are you getting the message yet? It's a big deal. And: It's free!
I found out about it by chance. I am on an email list for Baltimore small manufacturing businesses and get updates about courses and opportunities and this was one of them. I actually didn't know what it was. I imagined it was a weekend workshop and figured I would just apply, clicked the link, wrote the essays, and then didn't think much more about it. Little did I know.
You have to make at least $100,000 gross, have 2 employees, and they are especially interested in businesses that are minority and women owned. Getting in is competitive. You write essays, submit your financials, write more essays, have an interview, and then hope.
The course has 9 modules and runs over five months. We didn't have class every week, but usually had two back-to-back in one week from 8am - 5:30pm. (Breakfast, lunch, and snacks in the afternoon were catered and were healthy and delicious with salads, whole grains, vegetables, several protein options, fruit, and dessert. As you can see from the list, vegetarian options were available at every meal and all of you paleos would have been just fine too.)
We covered money, marketing, personnel, leadership skills, negotiation skills, bankability, funding, operations. And unlike many business courses that focus on developing a business plan, this course focuses on what they call a Growth Plan. You have to develop a new opportunity and come up with a feasible and actionable plan for engaging that new opportunity in order to grow your business.
Our industry is changing. Some of us are growing. Others of us are hurting. Many of us keep hoping it will get better, that something will change, that customers will come back. You don't know quite what to do. You don't quite know what's wrong. Is it the economy (we hear consumer-confidence is low) Is it Amazon? Is it an aging customer base? Is it me?
10,000 Small Businesses emphasizes that if you are doing what you have always done you are shrinking, you are dying, slowly going out of business. We have to keep innovating in order to grow and we can see that the most successful businesses in our industry are doing that and they are thriving. Well, we all have to do it. We all have to innovate. And we can. But we can't do it part-way. We have to be all in.
This course talked about the difference between a good idea and a growth plan, research-based decision making versus emotions-based decision making, business decisions based on the financials, not our gut.
I didn't know what inventory turnover rates were. I didn't know what break-even points were. I didn't know how to figure out my shop rate. How do you know what is cost of goods sold versus overhead? Now, those of you with business backgrounds may judge me. Please don't. I ended up doing this business by accident. I never planned to be here.
I have learned on the hoof. I was trained as an anthropologist. I'm a designer. I never had any training in accounting or business and have berated myself over the years for being a bad business woman until I decided I didn't have to take up brain space daily by castigating myself for not being up to date on the books. I decided I could do better. Now my books are up to date (and they need to be if you are going to apply for 10,000 small businesses because it's part of the application). Despite winging it, I have been able to make a living and support myself as a single mother with sole responsibility for my son - no child support ever. I have a house. I have a beautiful studio space. I have 2 full-time people in Indonesia who the business supports. I work with so many artisans there, Fair Trade, and they rely on the business we do together to support their families. I have a half-time person here in the United States.
I have survived. But survival is always only just enough. And right now it's not quite enough.
So I have developed my growth plan and begun to implement it and for the first time I can see past survival. I can imagine JUL as a bigger design company (and they say being able to visualize it is the first step). We did visualization exercises in class it's so important! And I now have the tools to make that vision a reality. I have to admit I'm scared right now. But I'm not going to quit.
Part of my new attitude and commitment to growth is I want to work with you, my customers, in a more engaged way. If you are having trouble selling the JUL you have, then we are not working together creatively in the way we need to so that you are turning that inventory over in your shop.
We can't ever do more business together if you won't order something new because you have something old. Your customers want to see something fresh. And they may be coming in looking for fresh JUL and when they don't find it in your store, they go online and buy it somewhere else.
The longer you let that inventory sit in your shop the more expensive it becomes. You pay taxes on it every year. That shelf space is real estate. If you let an old product sit there, then you are not making any money on that real estate. Your inventory turnover rate is terrible, it's too long - a year? 2 years? Let's make it three months, 6 at the most.
We have to move that inventory and I have lots of ideas for how to do it without losing anymore money. But without action, you are losing money. You are losing money every day because you are taking up space you can use to sell new products. And maybe you are mad at me, blaming my products. But this isn't necessary. We can do better if we work together.
I will be blogging now on a regular basis, offering a new, growth-oriented idea for doing more business, not just in JUL, but in everything.
No one is better at selling JUL than I am. And I am part of your network so I can help you not only sell JUL, but sell your yarn as well. I am your collaborator, your creative partner. When you promote me, let me know about it ahead of time. I will promote you too. I will point to you on my facebook, on my instagram, on the events page of my website when you are attending a festival or having an in-store event. I want us to celebrate each other as women-owned businesses who do business together.
Use me. Call me (240 294 6424). Write to me (laura@juldesigns.com). Work with me.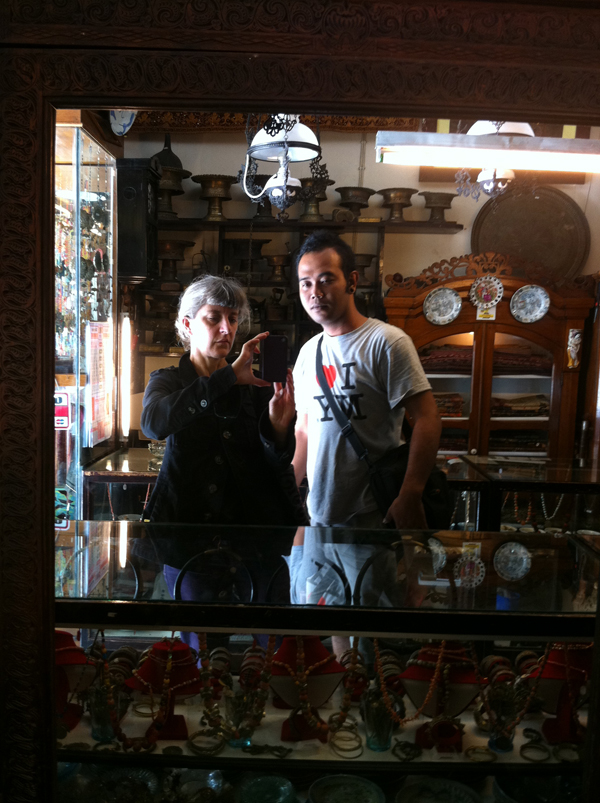 Laura with Balinese Creative Partner During a Working Trip to Indonesia